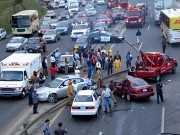 Atlanta Personal Injury Lawyer Jonathan W. Johnson has settled a case for his client who had been accused by the driver who hit him of not having his lights on and being stopped in the middle of the highway.
Atlanta, GA, September 15, 2014 (Newswire.com) - The Law Firm of Jonathan W. Johnson LLC in Atlanta has recovered $100,000 for their client, who was injured in an automobile accident in which no one received a ticket. The client was driving south on I-75 in Lamar County, GA at midnight when he was struck from behind by a pick-up truck towing a trailer. The force of the impact caused the client's car off the highway and onto the grass embankment on the side of the road.
When the police and EMS personnel arrived, the client was unconscious and had to be extricated from his vehicle. Due to his traumatic injuries, he was life-flighted to the nearest trauma center. In an effort to determine the cause of the accident, the police officer spoke with the driver and passenger of the pick-up truck to get their statements. Both of these witnesses agreed that the client was not only stopped on the highway, but he was in the right travel lane with his lights off. These statements were reflected in the police report and no ticket was issued.
When the firm met the client, he insisted that his lights were on and that his car was moving at the time of the accident. In an effort to get to the true cause of the accident, the attorneys at Jonathan W. Johnson's firm knew they had to act quickly. They contacted the insurance companies and the wrecker services for both vehicles and asked them to preserve the vehicles as evidence and to not begin any repairs until they had an opportunity to have them inspected.
The firm hired an accident reconstructionist to inspect the vehicles and the accident location to determine how the accident occurred. Through forensic inspections of the vehicles and the skid marks and other evidence at the accident scene, the attorneys were able to show that not only was their client's vehicle moving at the time of the accident but that his lights were on and in working order. With this evidence, they were able to convince the tortfeasor's insurance company to tender their policy limits of $100,000. Had the attorneys not acted quickly, the evidence needed could have been destroyed making recovery for the client more difficult and costly.
Share: